Tube 6 Hour | Ft Niobrara to Nichols Landing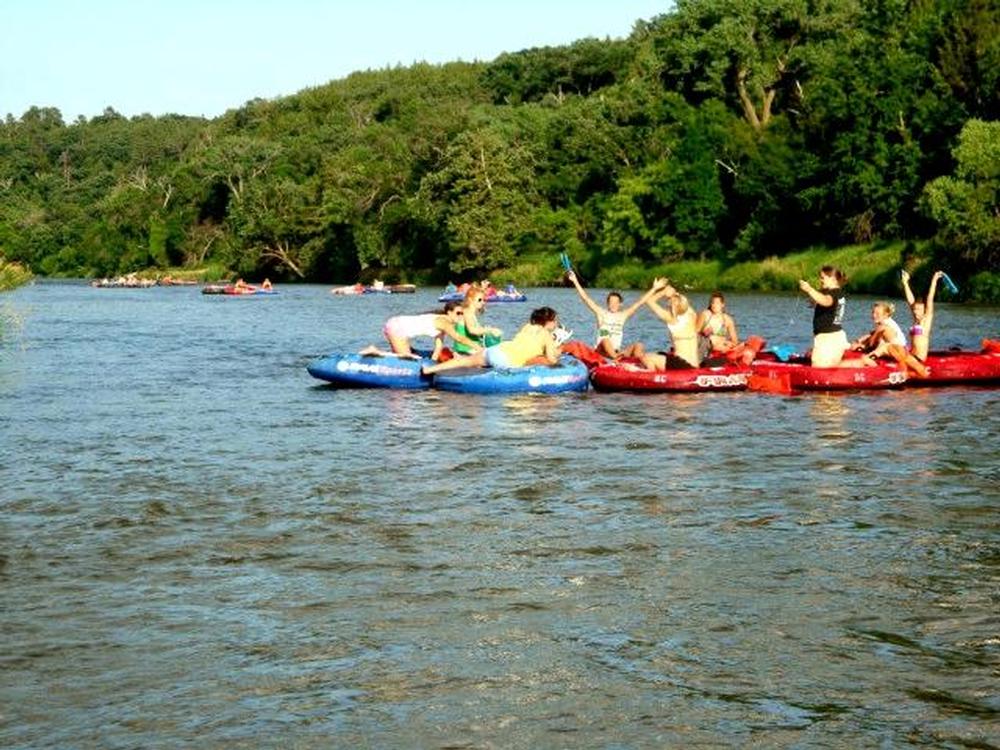 Ft Niobrara Launch*(Available weekdays only excluding Holidays)
4 Hour Trip- Ft Niobrara/Cornell Bridge to Berry Bridge
*User Fee and certain restrictions apply to this stretch of the river.
Ft Niobrara/Cornell launch to Berry Bridge is approximately four hours. The first five miles flows through the wildlife refuge boundaries with a small area being designated wilderness. There are certain rules that apply on this trip that the U.S Fish and Wildlife service have imposed which include: No possession or consumption of alcohol; no firearms; no boom boxes; no more than five tubes tethered together; no water guns; no water balloons.
Check-In:
Is required at the main office in Valentine. Either the day/night before or the morning of your trip unless other arrangements have already been made.
Morning Bus Shuttle:
Allow yourself enough travel time from Valentine which should take approximately thirty to forty-five minutes to drive to your bus stop. Arrive early so you can get your cooler and other items unloaded and ready to board the shuttle. Remember there will be others, most likely riding the shuttle, so be on time. If you are late you may have to catch a shorter trip at your expense. We do understand, however, that things happen such as a flat tire or a phone app that misdirects a person. We won't leave you sitting on the river-bank wishing you were on the river. We strive to accommodate.
Frequently asked questions
When is the best time to float the Niobrara?
Canoe/Kayak - Peak conditions early Spring/Summer. Peak Season.
Tube - Pre Season, 70 degrees and above until Memorial Day weekend. Peak season, Memorial Day through Labor Day weekend.
How deep is the water?
The average depth of normal conditions is approximately 1.5 feet. There are areas that can be over your head. These areas are usually identified by cliff walls and the surface of the water. The smoother the surface the deeper the water. The choppier the water, the shallower and generally rockier.
Do you have to know how to paddle?
Basic strokes are necessary to paddle a canoe or kayak but the Niobrara River is a perfect place to learn. If you have no previous knowledge of paddling then it does not take long to introduce you to the basic strokes and get you on the water.
Can three people ride in a canoe?
Three adults are not allowed in the two-person canoe due to the weight capacity and depth of the Niobrara. However, children under eight years of age can ride in the middle of the canoe with two adults.
Do kayaks have a skirting?
No, our kayaks are recreational without skirting.
How old does a child have to be to kayak solo?
Generally nine-year-olds and above are physically capable.
How often do trips run?
Varies depending on the day. Please refer to the Calendar for more detailed information.
Is there an age restriction?
We do not have an age restriction however if the child or infant is under thirty pounds then you are required to supply your own life jacket to ensure proper fit.
Is alcohol allowed?
No Alcohol - Ft Niobrara to Berry Bridge.
Yes, Alcohol - Berry Bridge to Last Chance.
Should I bring a towel?
Some people prefer to bring towels on tubes. They will not stay dry unless they are in a dry bag or dry cooler. Keep in mind if you do use them on your tube they will be full of sand at the end of your trip.
Are there restrooms along the way?
There are facilities at most major access areas. These can be found on public and private grounds so keep in mind that you may be accessing private property.
Do you supply the cooler?
You are required to bring your own cooler for your trip. Tubers should bring a hard-sided, chest size (48 quarts) cooler. Kayakers should bring nothing larger than a 12 pack cooler and preferably soft-sided. Canoers can bring either of the above mentioned.
How long are the trips?
Trips can be as short as two hours or as long as seven hours. The length is determined by the equipment you decide to use and your takeout. Tubes will take twice as long as a canoe or kayak to float the same stretch of river. Available trips can be found on the Calendar.
What if the weather is bad?
Depending on conditions the launch time may be delayed.
What to Bring
Swim Suit

Sun Screen

Bug Spray

Water Shoes (flip flops are not recommended)

Water

Cooler (48 qt for cooler tubes)

Sunglasses

Cap/Hat

Towel

Long sleeve shirt (to prevent severe sunburn)
Camping:
Berry Bridge Campground and Penbrook Campground - 402-376-3474 (May 20th - Labor Day Sunday) Off Season - 402-376-2503
Valentine City Park
Fishberry RV Campground
Wacky West RV Park
Motel:
Niobrara Lodge - 402-376-3000
Comfort Inn - 402-376-3300
(Econo Lodge) now Harmony Inn - 402-376-3131
Motel Raine - 402-376-2030
Super 8 - 402-376-1250
Trade Winds Motel - 402-376-1600